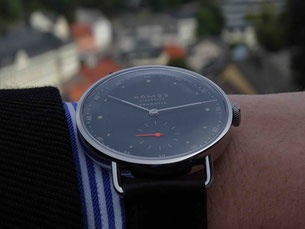 Der Glashütter Uhrenhersteller NOMOS Glashütte erweitert seine Automatikreihe neomatik um drei neue Uhren. Der Klassiker Tangente, das 2014 mit großem Erfolg eingeführte Modell Metro und das 2015 mit großer Beachtung auf den Markt gebrachte Modell Minimatik sind ab sofort auch in nachtblau erhältlich. Bereits im Frühjahr 2016 erweiterte NOMOS seine Uhr Tetra um eine Automatikvariante in nachtblau.
NOMOS mag es gerne farbenfroh, einige der Uhren aus der Kollektion sind in gelb, grün oder champagnerfarben erhältlich. Blau ist die Farbe der Hoffnung und des Vertrauens. Poetisch, elegant und raffiniert sei es, sagt NOMOS. Wir hatten die Uhren letzte Woche in Glashütte in der Hand und es ist faszinierend, wie eine klassische Uhr in einer anderen Farbe und einigen farblichen Akzenten ganz anders wirkt. Der unabhängige Hersteller NOMOS Glashütte stellt ausschließlich mechanische Uhren am deutschen Traditionsstandort Glashütte her.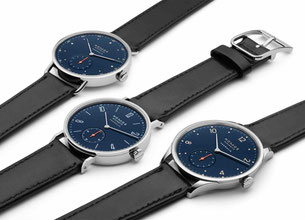 Discovering neomatik nightblue
The German watch manufacturer NOMOS Glashütte extends it's automatic series neomatik with three new watches. The classic watch Tangente, the 2014 skyrocking model Metro and the 2015 well recognized model Minimatik are now available in midnight blue. In early 2016 NOMOS coloured it's watch Tetra as an automatic midnight blue timepiece.
NOMOS actually love colours. Some of the watches of the collections are available in yellow, green and champagne. Blue is the colour of hope and confidence. NOMOS says, midnight blue is poetic, elegant and of refined character. We did had a little time with the new watches last week in Glashütte and came to the conclusion that it is fascinating to experience a classic watches completely different in a new colour and some colourful features. The independent watch company NOMOS Glashütte focuses on mechanical watches only at the German traditional watch spot Glashütte.