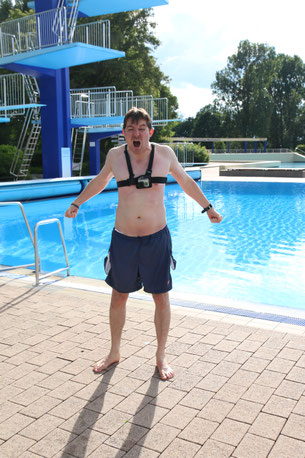 Wir hatten viel Spaß mit einer vierwöchigen Trageprobe der Schwimmuhr "Ahoi Atlantik" des Uhrenherstellers NOMOS Glashütte. Das Bild entstand bei den Photo- und Dreharbeiten in einem Freibad. Eine Schwimmuhr muss einiges aushalten, also sind wir damit vom 10 Meter Turm gesprungen bis es sehr geschmerzt hat. Mann, Uhr und Kamera leben noch. Die paar Prellungen nehmen wir gerne für die Mission in Kauf Männern verlässliche Informationen über Mode und Accessoires zu geben. 
Manly scream for the mission 
We had a hell of fun during a four week wearing experience of the swimming watch "Ahoi Atlantik" of the watch manufacturer NOMOS Glashütte. The photo was taken during our photo and video session in a swimming pool. A swimming watch is meant to experience a lot, so we jumped down the ten meter diving platform until it hurt a lot. Man, watch and camera survived. The contrusions suffered are nothing in comparision to our committment to the mission giving men reliable information about fashion and accessories.