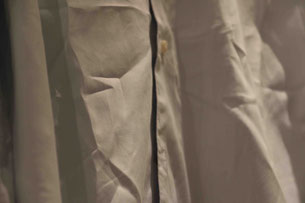 Ich habe von meiner lieben Großmutter gelernt mich sorgfältig um meine Oberhemden zu kümmern. Auf Reisen, wenn das Hemd aus einer Tasche kommt, hat es üblicherweise eine Knitterfalten. Manchmal ist der Mann einfach auch faul, hat wenig Zeit oder das Hemd hat nur einige wenige kleine Knitterfalten.
Dann gibt es einen alten Trick, wie Hemden wieder glatt werden: Nach der Dusche hängt man das Hemd hinein und setzt es dem Wasserdampf dort aus. Das funktioniert besonders gut über Nacht, ich habe auch schon Hemden absichtlich einige Tage im Bad hängen gelassen. Ich würde es nicht empfehlen, Hemden mehrere Tage hintereinander zu tragen, wenn es aber absolut nicht anders geht, ist die Wasserdampf Methode gut geeignet, einige der Knitterfalten vom Vortrag auszubügeln. 
Get rid of crumples
I learned ironing my shirts properly by my dear grandmother. On travels, when shirts come out of the bag, they used to show some crumples. Or maybe you are little lazy, have no time or general crumples are not too bad, there is an old trick to get rid of them:
After showering, hang the shirt in the shower and expose it to the steam. This might smooth out some of the crumples. Another strategy is to keep some shirts in the bath room for some days. I would not recommend to wear a shirt several days in a row, but if the odds are against you, the steam method works to red rid of some traced of the previous day.