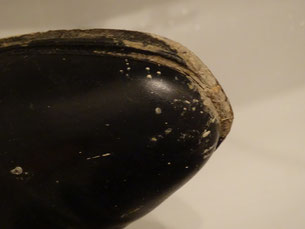 Nach dem Winter kann es passieren, dass Schuhe schmutzig sind. Regen und Matsch machen sich nicht sonderlich gut. Anlässlich des beginnenden Frühlings habe ich neulich ein Paar Lederschuhe von einem Spaziergang gereinigt, bei dem sie dreckig wurden. Normalerweise reicht ein Lappen zum Reinigen, für etwas mehr Dreck, z.B. Erde, ist ein angefeuchteter Lappen gut.
Das Bild zeigt meine Reinigung über dem Waschbecken. Für hartnäckige Verschmutzungen empfiehlt sich ein spezieller Lederreiniger, der auch Schmutz entfernt, den man auf dunklen Schuhen mit bloßem Auge gar nicht wahrnimmt. Das Ergebnis lässt die ursprüngliche satte Farbe wieder zum Vorschein kommen, die schon fast vergessen schien.
Nach der kalten Jahreszeit empfiehlt es sich außerdem das Profil und die Absätze anzuschauen. Maßschuhmacher Matthias Vickermann sagte in unserem Winter/Frühlingsinterview: "Ich empfehle nach dem Winter die Schuhe reparieren zu lassen. Dann ist das Profil abgelaufen. Nach der Reparatur hat der Mann, wenn es Monate später plötzlich kalt wird, einwandfreie Schuhe." 
Hier geht's zur Schuhkategorie…
Sun shines, shoes as well?
After the cold season, there might be some dirty shoes. Wet and mud don't look nice. At the occasion of the beginning spring recently I cleaned a pair of leather shoes from a walk. Usually a lobe is sufficient for cleaning, for a little more dirt, for instance a lump of earth might be treated by a wet lobe.
The picture shows my cleaning procedure over the basin. Against persistant dirt a special leather cleaning liquid is adviseable, which also removes dirt you might not notice  at dark coloured shoes with the naked eye. The result will bring back the original rich colour you might have forgotten.
After the cold season, you might review the profile and the heels. Bespoke shoemaker Matthias Vickermann explained in our winter/spring interview: "My recommendation is to repair the shoes after the winter. Then the tread is worn-down. Having repaired the shoes early, the man has flawless shoes when it turns suddenly cold."