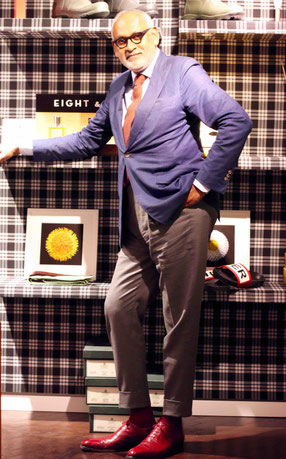 Es ist selten jemanden zu treffen, der seine Meinung offen, klar und ohne Hemmungen äußert. Ignatious Joseph, Inhaber des gleichnamigen Hemdenlabels, ist so ein Mann. Am Rande der Frühjahresmesse einer Maßschuhmacherei traf Men's Individual Fashion den charismatischen Kosmopoliten mit Wurzeln aus Sri Lanka.
Es wurde ein feuriges Plädoyer für guten Stil und den Erhalt europäischer Kulturwerte, soviel sei schon vorab verraten. Von den vielen Weisheiten, blieb uns eine besonders im Gedächtnis: "Einen Gentleman erkennt man schon aus der Ferne".
"You already recognize a gentleman from a distance"
It is rare to meet somebody expressing his opinion openly, clearly and without hesitation. Ignatious Joseph, owner of the shirt brand with the same name, is such a man. At a shoemaker spring fair, we had an intense experience with the charismatic cosmopolitan with roots from Sri Lanka.
As a short preview, let's say Ignatious Joseph gave an impressive plea in favour of good style and the preservation of European cultural values. Among the many wisdoms he shared with us, one stayed dominantly in our memory: "You already recognize a gentleman from a distance".