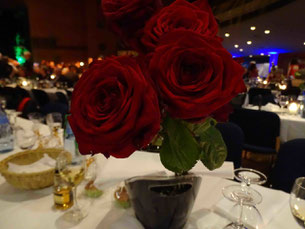 Bei einem Frühlingsball in Stuttgart war sie wieder zu sehen: Die Fliege. Quer durch alle Altersgruppen, in schwarz, in weiß, in farbig. Nicht jede war perfekt gebunden, sicher. Als generelle Regel gilt, dass die Fliege nicht breiter als der Hemdkragen sein sollte.
Auch nicht jede Krawatte endete an der Gürtelschnalle. Christine, die mich begleitete, sagte es mit einem liebevollen: "Es gibt noch viel zu tun." 
The bow tie is back again
At a spring ball in Stuttgart there it was again: The bow tie. Among all generations, in black, in white and colourful. Not every bow tie was, however, tied perfectly. As a general rule, the bow tie is supposed to be not broader than the shirt's collar.
And not every tie touched the belt buckle. Christine, being with me, said it in a lovely way: "There is still a way to go".