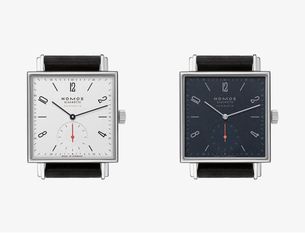 Es heißt ein echter Mann habe Ecken und Kanten. Des Mannes einziges Schmuckstück ist bekanntlich die Uhr und die ist nun auch eckig erhältlich. Nomos Glashütte erweitert die Automatikuhren Serie "Neomatik". 2015 hatte Nomos sehr flache und ganggenaue Automatikuhren auf den Markt gebracht.
Bei Automatikuhren zieht sich die Uhr anhand der Bewegung des Armes selbst auf. Automatikuhren werden daher auch Selbstaufzüge genannt. Diese Reihe erweitert der Glashütter Uhrenhersteller nun auf die bisherige reine Damenuhr Tetra. 
Die Uhren stellt Nomos heute auf der weltgrößten Uhrenmesse in Basel vor, Men's Individual Fashion wurde als einziges reines Onlinemedium in Deutschland mit Vorabinformationen versorgt. Die eigens bei Nomos entwickelten Uhrenwerke sind gerade mal 3,2 mm hoch und tragen den Namen DUW 3001, wobei DUW für "Deutsche Uhrenwerke" steht. Die Uhren werden im Erzgebirge in der Kleinstadt Glashütte gebaut. 
Mit den Modellen Tetra Neomatik und Tetra Neomatik tiefblau möchte Nomos nun auch Herrenhandgelenke schmücken. Die Kantenlänge beträgt 33 Milimeter und erscheint sportlicher und maskuliner. Die Uhren sind in zwei Versionen erhältlich, einmal mit weiß versilberten und einmal mit tiefblauem Ziffernblatt. Mit Tetra neomatik setzt Nomos seine Entwicklung zu Manufakturkalibern fort und bietet für besondere Handgelenke weitere Gestaltungsmöglichkeiten.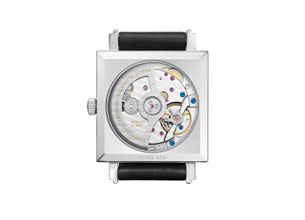 Nomos extends Neomatik series
There is a saying, a real man has a mind of his own including edges and corners. The only manly piece of juwellery is the watch and now Nomos Glashütte offers a square shaped one. Nomos extends the automatic series Neomatik. In 2015, Nomos introduced very thin and exact automatic watches. Automatic watches wound themselves up by using the energy of the arm's movement. This is why automatic movements are also called self-wound movements. Nomos now introduces Tetra neomatik. 
Today Nomos presents the watches at the biggest watch fair, the Baselworld in Switzerland. Men's Individual Fashion is privileged being pre-informed among a small group of online media globally and as the only one in Germany. The inhouse developed and manufactured movement is only 3,2 millimetre high and is called DUW 3001, which means "Deutsche Uhrenwerke" (German for: "German watch movements"). The watches are crafted in the small town Glashütte/ Ore Mountains, Germany. 
With the models Tetra Neomatik and Tetra Neomatik tiefblau Nomos intends to adorn men's wrists. The edge length is 33 millimetre and appears more sporty and masculine. The watches are avaibleable in two editions with a white silver display and a dark blue one. Nomos continues with Tetra Neomatik it's development towards inhouse developed automatic movements and offers more flexibility for special wrists.