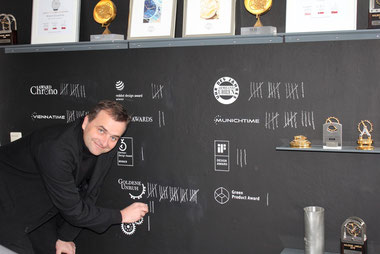 Gold für Metro/ Gold for Metro
Der Uhrenhersteller Nomos Glashütte ist der große Gewinner der Goldenen Unruh 2016. Insgesamt standen 354 Uhren zur Wahl. Das Uhrenmodell "Metro" gewann genauso wie die Automatikuhr Tangomat den ersten Platz in zwei der sechs Kategorien. Das Modell "Metro" mit Datumsanzeige und farbiger Gangreserveanzeige erhielt etwa ein Viertel der über 21000 Stimmen.
Das Golduhrmodell Lamda 39 samtschwarz gewann einen achtbaren dritten Platz in Kategorie der Uhren bis 25 000 Euro. 
Nomos Glashütte wurde erst 1990 gegründet und ist für populäres Design im Bauhausstil bekannt. Uhrenmodelle von Nomos Glashütte haben bereits 27 Mal die "goldene Unruh" gewonnen. Nomos Geschäftsführer und Miteigentümer Uwe Ahrendt sagt: "Wir freuen uns riesig über alle drei Preise". Das Bild zeigt ihn bei der Aktualisierung der hauseigenen Trophäenwand.
Die Uhrenauszeichnung "Goldene Unruh" ist nach dem Herzstück einer mechanischen Uhr, der "Unruh, benannt und ist ein bekannter Publikumspreis in Deutschland.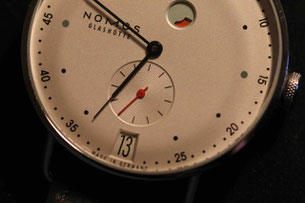 Gold for Metro
The watch manufacture Nomos Glashütte is the big winner of the Goldenen Unruh award 2016. In total, 354 watches were nominated. The watch model "Metro" and the self wound watch Tangomat won the first place in two of the six categories. Clients vote for the model "Metro" with date display and coloured power reserve display with a quarter of the 21000 votes handed in totally. The gold watch Lamda 39 samtschwarz achieved a respectable third place in the category of watches pricing up to 25000 Euro. 
Nomos Glashütte was just founded in 1990 and is famous for it's popular Bauhaus style oriented design. Watch models of Nomos Glashütte have won the "Goldene Unruh" 26 times before. Nomos CEO and co-owner Uwe Ahrendt said: "We are delighted about all three prizes". The picture shows me while updating the inhouse trophy wall. 
The watch award "Goldene Unruh" (German for Golden balance wheel) is named after the heart of a mechanical watch, the balance wheel. It is a well known and respected audience award in Germany.