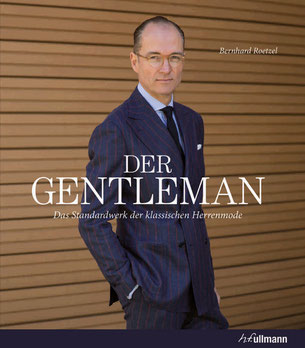 Das Standardwerk "Der Gentleman" von Bernhard Roetzel ist überarbeitet erhältlich. Das international bekannte Buch über klassische Herrenmode erscheint nun in der dritten Auflage. Die zweite Auflage wurde in 20 Sprachen übersetzt.
Die Neuauflage erscheint erneut im Ullmann Verlag und zunächst auf Deutsch und Englisch. Bernhard Roetzel hat neben diesem 376 seitigen Werk Bücher zu den Themen Maßkleidung, Schuhen und Herrenmode allgemein veröffentlicht. 
"The Gentleman", third edition
The core literature "The gentleman" by Bernhard Roetzel has been updated. The international recognized book about classic manly fashion was published in the third edition. The second edition is internationally availible in 20 languages.
The third edition, issued again by the Ullmann publishing house, is avaible in German and English. Apart from this 376 sided book Bernhard Roetzel is the author of books focusing on full bespoke clothes, shoes and general manly fashion.