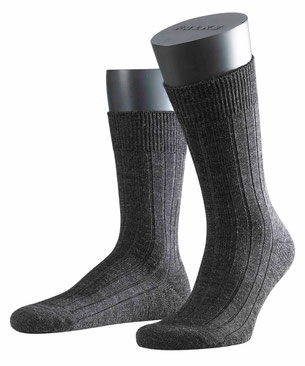 Die klirrende Kälte fernzuhalten gehört im Winter zum Alltag. Die Socke wird ein wenig unterschätzt, viele Leute konzentrieren sich auf die Schuhe, den wärmenden Schal oder die Wollmütze. Maßschuhmacher Matthias Vickermann sagt im Interview mit Men's Individual Fashion: "Socken machen im Winter einiges aus."
Also geht es nicht immer nur um die richtigen Schuhe (aber oft!). Es mag Menschen geben, die sich über teuere Kaschmirsocken lustig machen, aber gute Socken sind wie die Wollmütze für die Füße. Mit vernünftigen Socken fühlt sich der Fuß nicht nur gewärmt, sondern auch zusätzlich gepolstert. Außerdem bringt Winterunterwäsche einiges an zusätzlicher Wärme. 
The wolly hat for the feet
In winter fighting the biting cold is part of daily life. The sock is a little underestimated. People focus a lot on the shoes, the warm scarf and the wolly hat. Bespoke shoemaker Matthias Vickermann says in the Men's Individual Fashion interview: "Socks make a big difference in winter".
So it is not always about the right shoes (but often!). There might be guys making fun of expensive cashmere socks and indeed that might sound like luxury, but anyway good socks of any material on the feet are like the wolly hat. With decent socks the feet feel not only warmer, but additionally padded. Furthermore winter underclothes contributes to additional warmth.