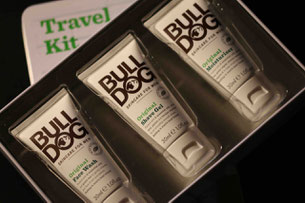 Mein Freund Johannes ist ein Freund von organischen Produkten. Chemie ist ihm ein Graus. Zu Weihnachten wurde ich mit einer Reisebox organischer Produkte beschenkt. Vor einiger Zeit hielt ich organische Kosmetika für Gutmenschentum. Das Alumnium in Deos und Parabene in verschiedenen Kosmetika schädlich sein kann, ist allgemein bekannt und wusste ich bereits. Beide Substanzen stehen in Verdacht krebserregend zu sein, dürfen nach derzeitiger Rechtslage aber in Produkten enthalten sein.
Ein Besuch bei einer Kosmetikerin erleuchtete mich weiter. Alkohol in vielen Produkten entzieht der Haut Fett und führt paradoxerweise dazu, dass die Haut nachfettet um den vorherigen Stand wiederzubekommen. Mineralöl wirkt wie ein Deckel für die Haut und tut nicht immer gut. Für diese Inhaltsstoffe sensibilisiert, durchforste ich meine riesengroße Sammlung von Kosmetika. Das überraschende Ergebnis: Ich kann etwa ein Viertel wegen Schädingsverdacht aussortieren. Auch manch bekannter Anbieter verwendet Parabene finde ich bei einem neugierigen Besuch in einer Drogerie heraus. 
Erfreulich ist, dass z.B. die große niederländische Kette Rituals alle Produkte parabenfrei herstellt und keine Tierversuche betreibt. Ich verwende seit dem heilsamen Schock ein alkoholfreies Waschgel, das meine Hautqualität deutlich verbessert hat.
Organic products
My dear friend Johannes is a big supporter of organic products. He hates chemistry. At the occasion of Christmas I got as present a travel kit full of organic products. Back in the days I thought organic are nothing more than pretending belonging to the good guys. That aluminium in deodorands and parabens in different cosmetica might cause cancer is common knowlege and I knew it before. Both substances are under suspicion to causing cancer but at present legislation it is allowed to sell them in the European Union. 
A visit to the cosmetician lady enlightens me. Alcohol in many products extracts the skin fat and results paradoxically in boosting more fat in the skin in order to regain the level of fat. Mineral oil have the effect of a top for the skin and is not always helpful. Sensiblized for these essences I look at my huge stock of grooming products. Surprising: I can throw away a quarter of due to pest suspicion. I find out that even some well known brand uses parabene during a curious visit to the chemist's shop. 
It is fortunate that for instance the big Dutch brand Rituals sells all products paraben free and does not conduct animal experiments. After this salutary shock I use an alcohol free daily facial cleanser which improved my skin quality significantly.