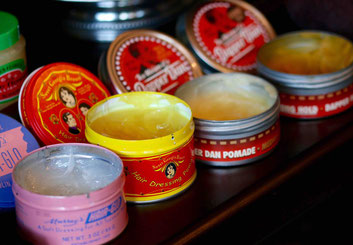 Pomade steht zu Unrecht in dem Ruf ein Großvaterprodukt zu sein. Es kommt immer mehr in Mode und Männer schätzen es als Vintage Pflegeprodukt.
Es gibt Pomade in knallbunten Farben und verschiedenen Stärken. Pomade ist ein Lifestyle Produkt, aber auch sehr praktisch. Stan Soldan, Inhaber des Pomadeshops in München sagt: "Pomade ist besonders für Männer mit kurzen Haaren geeignet." Es sei aber nicht so, dass Pomade nur für Nostaliker sei. Quer durch alle Berufsgruppen von Polizisten, Soldaten und Köchen bis zu Ärzten, Anwälten und Unternehmern schätzen Männer ein Produkt, dass den ganzen Tag hält, gut duftet und die Frisur dabei sowohl einen Helm als auch einen anstrengenden Bürotag überlebt.
"Pomade ist für alle Männer, die Haare haben" erklärt Stan und kann auf ein stolzes Angebot in seinem sehr liebenswerten Geschäft in München verweisen.
Pomade (English) 
Pomade is unfairly blaimed being a grandfather product. It is quite fashionable and men appreciate it as a vintage product.
Pomade you get in gaudy colours and different holds. Pomade is a lifestyle product, but very practical as well. Stan Soldan, owner of the Pomade Shop in central Munich says: "Pomade is especially for man with short hair." Anyhow, it is not limited to nostalgia addicts. Among men from a big variety of professional backgrounds you can find costumers: Policemen, soldiers, cooks but also doctors, lawyers and businessman like a product which holds the whole day, has a wonderful scent and survives a helmet as well as an exhausting office day.
"Pomade is for all man who have hair" explains Stan and can proudly present quite a selection of products in his lovely shop in Munich.