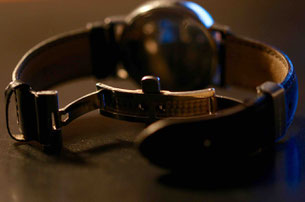 Als ich mir 2014 in Stockholm meine lang ersehnte Uhr von Georg Jensen gekauft habe, habe ich die Faltschließe kennengelernt. Die Faltschließe ist etwas gewöhnungsbedürftig, hat aber Vorteile. 
Im Gegensatz zu der sogenannten Dornschließe ist die Schließe unter dem Armband verborgen. Ein weiterer Vorteil einer Faltschließe ist, dass die Uhr beim Öffnen nicht herunterfallen kann. Das Bild zeigt eine sogenannte Schmetterlingsfaltschließe, die ein besonders komfortables Anziehen der Uhr ermöglicht. 
The fold clasp
In 2014 I finally bought my long seeked watch by Georg Jensen in Stockholm and became familiar with the concept of the fold clasp. The fold clasp requires getting used to, but has advantages. 
In contrast to the pin buckle, the fold clasp is hidden under the watchstrap. Another advantage is that the watch can not fall down while opening the clasp. The picture shows the so-called butterfly fold clasp of my watch which enables a very comfortable handling.