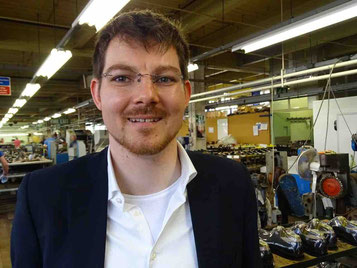 Im großartigen Jahr 2015 hat Men's Individual Fashion 17 Ortsbesuche durchgeführt, sowohl in Deutschland als auch im Ausland.
Das ist anstrengend und eine Herausforderung, aber sehr erfüllend. Einer der spektakulärsten Termine war der Fabrikbesuch bei Crockett & Jones in Northampton, England, bei dem wir unglaublich begeistert waren. Schuhliebhabern und Kinogängern der beiden letzten James Bond Filme ist Crockett & Jones als Hersteller hochwertiger rahmengenähter Schuhe bekannt.  Würden wir bei Men's Individual Fashion etwas produzieren, würden wir damit werben, es sei "handgemacht". So bieten wir unseren Lesern den authentischsten Einblick, der möglich ist. Dafür arbeiten wir hartnäckig und mit vollem Einsatz. 
Inside Crockett & Jones (English)
In the great year of 2015 Men's Individual Fashion conducted 17 company visits, both in Germany and abroad.
It is exhausting and challenging, but overall fullfilling. One of the most spectacular appointments was the factory visit to Crockett & Jones, a decent shoe maker based in Northampton, United Kingdom, which we were very passionate about. Apart from shoe lovers, Crockett & Jones became famous delivering the shoes for the last two James Bond movies. If Men's Individual Fashion produced anything we would refer to the product as "hand made". So we just offer our readers the most accurate insight possible. For that we work persistently and with great commitment.