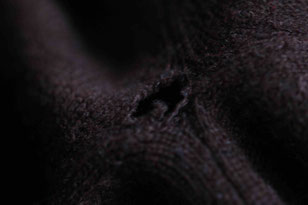 Selbst bei bester Behandlung und Pflege gibt es klassische Belastungsstellen bei Pullovern. Unter den Achseln, am Ellenbogen und an der Schulter reißen sie leider früher oder später ein. Dann sieht man das T-Shirt durch, was bei unterschiedlichen Farben wie ein Fleck aussieht. Frauen bemerken kleine Löcher oder gerissene Nähte so gut wie immer. Das macht einen schlechten Eindruck. Da hilft nur der rechtzeitige Gang zum Änderungsschneider, der das wieder schön hinbekommt. Mit Kleiderbügeln, zusammengelegten und normalem, nicht gewalttätigen Ausziehen des Pullovers lässt sich der unvermeidliche Reparaturgang freilich herauszögern. 
Jumper's strain parts
Even with best treatment and care there are classic strain parts of jumpers. At the armpit, at the should and at the elbow unfortunately they tear sooner or later. Others might notice the undershirt which might look like a stain if colours differ. The ladies nearly always see little holes and torn stitching when you are out. That results into a bad impression which you don't want to have at a date or alike. The only way is to go to the tailor on time, who is capable of fixing these issues nicely. With clothes hangers, folded up garments and not violent undressing you might postpone the inevitable visit to the tailor for some time.