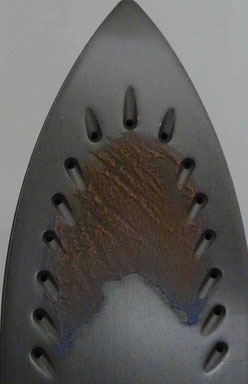 Das es diese kleinen Waschsymbole in Kleidung gibt, ist gut gemeint. Sie sollen uns helfen, dass wir an dem guten Stück lange Freude haben. Meistens sind sie etwas übervorsichtig, aber generell sollte man sie durchaus anschauen und mit der Zeit lernen, was verschiedene Materialien vertragen. Gestern habe ich, in Gedanken und unkonzentriert (eigentlich wollte ich ein T-Shirt aus Baumwolle bügeln) diese Boxershorts, die aus Polyster besteht, mit einem sehr heißen Bügeleisen in Kontakt gebracht. 
Das Bügeleisen hat gezischt, das Resultat war ein faustgroßes Loch im Stoff. Die Reste der Boxershorts werde ich testweise als Poliertuch für meine Schuhe weiterverwenden. Wir lernen also dabei: Immer an das Kleidungsstück denken, Baumwolle heiß, Polyester weniger.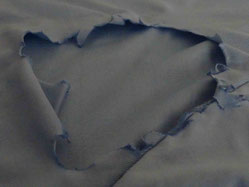 Controll, then iron
There are laundry and iron symbols in garments for a reason. They make sure we enjoy a garment long term. In general, they are a little over cautious. You should consider them and learn over time, what different fabrics like and dislike. Yesterday, I touched this boxer shorts made of polyster with my iron. I was lost in contemplation, my initial intention was to iron a t-shirt made of cotton.
The iron made a hiss sound and the result was a big hole. The rest will serve as a polishing cloth for my shoes. So we learn by this: Always keep in mind the garment you iron. Cotton hot, polyester less hot.