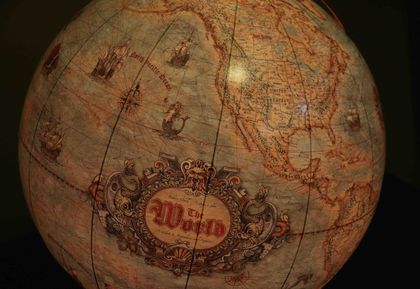 Men's Individual Fashion wird international gelesen 
Im großartigen Jahr 2015 haben Menschen aus 107 Ländern Men's Individual Fashion gelesen. Wir sind dankbar für diese internationale Leserschaft und werden den begonnen Weg mit voller Begeisterung und Kraft weitergehen. Schiffe sind internationale Entdecker. Derzeit haben wir Texte in neun Sprachen auf der Internetseite. Wir laden die Leser ein weitere Modegeschichten und ihren eigenen Stil zu entdecken. 
Der atemberaubende Globus vom Columbus Verlag hat mich auf einer Manufakturmesse derart in den Bann gezogen, dass es schon dem Inhaber etwas unheimlich wurde. 
Men's Individual Fashion is read internationally
In the great year of 2015 people from 107 countries have read Men's Individual Fashion. We are grateful for this international readership and will go on the chosen course with full passion and power. Ships are international and vessels of discovery. At present we have texts in nine languages. We invite you to discover more fashion stories and your own style. 
The incredible globe is made by Columbus. To photograph it extensively and passionately even astonished the owner of that company during an workshop exhibition.