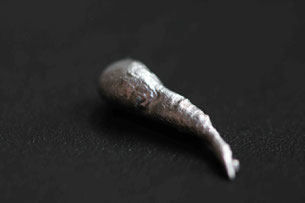 Nach einem alten Brauch kann man am Sylvesterabend anhand der Form des gegossenen Bleis die Zukunft deuten (oder es versuchen). Meine Form sah einem Mikrofon recht ähnlich. Jemand, der sehr gut Bescheid weiß, was wir bei Men's Individual Fashion tun und was noch alles in Planung ist, nannte das sehr erfüllende Projekt neulich "das Juwel". Ob das stimmt, sollen andere beurteilen.
In jedem Fall ist es unsere Mission der Welt Modeanleitungen zu geben. Wir können es gar nicht abwarten dies im wundervollen Jahr 2016 noch weiter voranzutreiben. 
Our Mission: Explain the man how to dress
In Germany, it is an old New Year's Eve custom to fortune-telling by pouring molten lead into cold water and interpretating the shapes created. My shape looked kind of a microphone. Someone who knows a lot about what we do at Men's Individual Fashion and what we have in stock recently labeled this fulfilling project "the jewel". Whether this is true is for others to judge.
In any case it is our mission to spread the message of fashion principles to the world. And we love to accelerate this even more in the fabolous year of 2016.