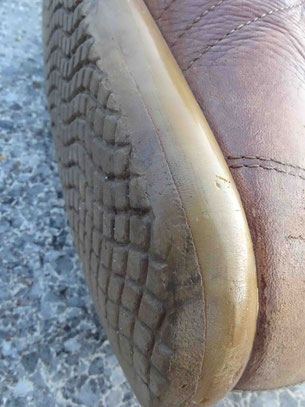 Vor acht Jahren habe ich mir einen Camper Schuh gekauft. Zunächst war ich abgeschreckt vom Preis (das war bevor ich lernte, dass der einzige Weg einen guten Schuhkauf zu machen ist gute Schuhe zu kaufen, die auch etwas kosten). Ein Amerikaner, der sich in dem gleichen Geschäft in Stuttgart umschaute, bemerkte mein Zögern und schrie mich in einer Mischung aus Begeisterung und Entsetzen geradezu an: "I have been wearing these shoes for nine years now. Buy these shoes, son!"
Ich folgte seinem Rat, besaß ein Jahr später ein zweites Paar in einer anderen Farbe und bin ihm immernoch tief dankbar für den robusten Schubser. Die Gummisohle brach nach fünf Jahren, mein Flickschuster hat für 30 Euro eine neue aufgezogen (zum großen Leidwesen des Schuhgeschäftes, das lieber einen neuen Schuh verkauft hätte). Seitdem beschränkt sich die Instandsetzung auf Schnürsenkel und regelmäßiges Behandeln mit Schuhcreme. Das Bild zeigt den Schuh vor der Behandlung. Ich liebe diese Freizeitschuhe, die sowohl bequem als auch schick sind. Sie sind im Büro für den Casual Friday genauso geeignet wie für lockere Anlässe.
Longtime companion- Camper
Eight years ago, I bought a pair of Camper shoes. At first sight, I was afraid of the price (that was before I learnt that the only way to make a good deal with shoes is to invest in good ones). An American gentleman who were a costumer in the Stuttgart based store noticed my hesitation. He yelled at me in a mixture of passion  and dismay: "I have been wearing these shoes for nine years now. Buy these shoes, son!" 
I followed his advice and a year later I owned another pair in another colour and I am still deeply grateful for the rough nudge. The rubber sole broke five years later and my repairman crafted a new one charging 30 euros (to the detriment of the shoe shop which strove to sell me a new one). After that my post purchase activities are just changing laces regularly and using polish (the picture shows the shoe before I polished it). I love these leasure shoes which are both comfortable and dapper. They are suitable for casual fridays in the office and for relaxed occasions.