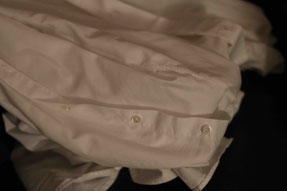 Wenn man bei Freunden zu einem Fest, wie Sylvester eingeladen ist, ist ein weißes Hemd der beste Verbündete. Es schaut immer ordentlich aus und man kann es mit fast jeder Farbe, die dem Träger steht, kombinieren. Zumindest ein sehr gutes Hemd im Schrank zu haben, hilft auch bei Vorstellungsgesprächen, Dates und wenn der beste Freund heiratet. Nach einem langen Abend darf es dann auch etwas strapaziert sein. 
The benefit of a decent white shirt
When you are over at friends for a celebrating event such as New Year's eve, the white shirt is your best ally. It always looks dapper and you can combine white with almost every colour that fits you. Having at least one excellent shirt in your wardrobe also assists on interviews, dates and when your best friend gets married. After a long night it might look a little exhausted, but with some care not too long.