Uhrenausstellung Munich Time
Nächsten Freitag bis Sonntag (30. Oktober bis 01. November 2015) findet im Hotel Bayrischer Hof in München zum achten Mal die Uhrenausstellung Munich Time statt. Der Eintritt ist frei. Men's Individual Fashion ist Medienpartner der Munich Time. An den drei Ausstellungstagen erwarten die Veranstalter 10000 Besucher. 
83 Uhrenhersteller präsentieren ihre Zeitmesser einem breiten Publikum. Unter den Ausstellern sind deutsche Uhrenhersteller wie z.B. A. Lange & Söhne, NOMOS Glashütte, Wempe, Junkers aber auch internationale Luxusuhrenanbieter wie Hublot, Montblanc, IWC Schaffhausen und Jaeger-LeCoultre.
Eine besonderes Highlight sind sicher die neue Neomatikuhren von NOMOS Glashütte, eine sehr dünne und exakte Automatikreihe zu erstaunlich niedrigem Preis. NOMOS Glashütte hat in den letzten Jahren große technische Fortschritte gemacht und bietet gute mechanische Uhren zu einem fairen Preis. Men's Individual Fashion konnte die Neomatik Uhren bei unserem Manufakturbesuch in Glashütte Wochen vor der offiziellen Ankündigung ansehen und wir sind von diesem Schritt zu jüngerem, hipperen Design beeindruckt. 
Video Copyright: NOMOS Glashütte.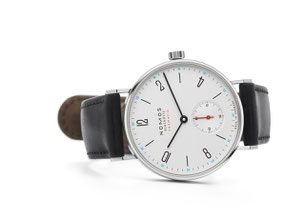 Watch exhibition Munich Time
For the eighth time, next friday until sunday (October 30 until November 1, 2015) the watch exhibition Munich Time takes place in the hotel Bayrischer Hof in Munich. Admission is free of charge. Men's Individual Fashion Fashion is media partner of the Munich Time. During the three exhibition days, the organizers welcome around 10000 visitors. 
83 watch companies present their timepieces to the public. Among the exhibitors there are German manufacturers such as A. Lange & Söhne, NOMOS Glashütte, Wempe, Junkers but also international luxury watch maker such as Hublot, Montblanc, IWC Schaffhausen and Jaeger-LeCoultre. 
A special highlight for sure is the new Neomatic watch by NOMOS Glashütte, a very thin and exact working automatic watch series to affordable prices. NOMOS Glashütte did achieve technical milestones during the last years and offers decent mechanical watches to a fair price. Men's Individual Fashion had the chance to look at these brand new watches during our manufacture visit to Glashütte weeks before they were publicly released and we were impressed by this huge step towards a younger and hipper design.