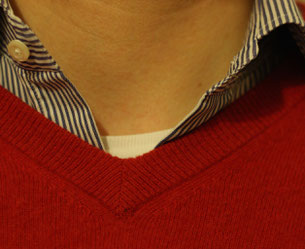 In der kälteren Jahreszeit ist jede Schicht wichtig, auch das Unterhemd. Während im Sommer viele Männer das Unterhemd als störend empfinden, ist es im Winter eine große Hilfe. Ältere Männer verwenden oft noch das ärmellose Unterhemd, dessen Träger allerdings oft durchscheinen und die Unterbekleidung fällt mehr auf als sie müsste. Bewährt hat sich ein Unterhemd mit eng anliegenden Ärmeln, ähnlich einem Muskelshirt. 
Das Unterhemd wärmt nicht nur, es schützt das Oberhemd auch vor Schweiß. Üblicherweise ist es weiß und gehört sicher zu den Kleidungsstücken, die ein Mann in größeren Stückzahlen besitzen sollte. Einen besonderen  Ansatz geht der Hemdenhersteller Schaufenberger, der ein hautfarbenes Unterhemd entworfen hat. Der Hersteller nennt es "unsichtbares Unterhemd". Der Kontrastrand bei geöffnetem Kragen entfällt und es sieht so aus, als ob der Träger kein Unterhemd anhat. Ein solches Hemd kann für Männer ohne Krawattenzwang im Büro hilfreich sein. 
Das passende Unterhemd lässt sich online in größeren Stückzahlen bestellen. Ein schlichtes enganliegende Shirt passt unter Freizeitpullover wie Trainingsjacken und eignet sich also als schlichte Basis von Freizeitkleidung zu Hause oder für den Sport, dann allerdings mit schnellerem Verschleiß als ein spezielles Sporthemd.
The vest
In the cold season every layer counts, including the vest. Whereas in summer many men feel uncomfortable with the vest, in winter it is big help. Older men use to wear the old-style shirt without any sleeves. These vest usually are visible and stress underwear more than it is necessary. Best practice is a vest with short sleeves like a muscle shirt. The shirt not only warms the man up, it also protects the business shirt against sweat. 
In general it is white and for sure is a basic garment, every man should own in sufficient numbers. A special approach has been introduced by the German company Schaufenberger, which designed a skin coloured undershirt. The company labels it "the invisible vest". Is the collar opened, there is no visible contrast and it appear that the man does not wear a vest. Such a vest can be helpful for men who dress in office without tie.   
The vest of your choice can be ordered comfortably in large numbers online. A plain slim shirt can also be worn under a leasuretime jumber or a training jacket. Thus, undershirts are a solid basis at home or for sports, then they are more likely to be worn out quicky.