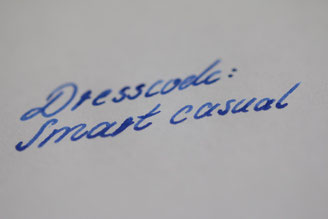 Ein Freund hat mich anlässlich einer Veranstaltung gefragt, was denn der Dresscode "Smart Casual" zu bedeuten habe. Smart Casual gibt es immer mal wieder bei Seminaren, Get-together und lockeren Veranstaltungen. Der Veranstalter beeinflusst auch die Kleidungswahl. Smart Casual bei einer Bank oder einer Unternehmensberatung ist anders als Smart Casual bei einem Industrieunternehmen oder einer Agentur.
Generell gilt aber, dass Smart Casual gepflegte Freizeitkleidung bedeutet. Am Oberkörper sind Pullis, Hemden, bei manchen Veranstaltungen Poloshirts, Sakkos und nicht zu flippige Jacken (Pullis und Jacken ohne große Aufdrucke) akzeptiert. Am Unterkörper sind gute Jeans, Chinos (Stoffhosen) und Lederschuhe angemessen. Auch Kordsachen in gutem Zustand können sehr gut aussehen.
Auffällige, dominante Farben wie rot sollte man meiden, wenn man nicht auffallen will. T-Shirts, Lederjacken und Sneaker sowie Turnschuhe haben bei Smart Casual nicht zu suchen (anders aber z.B. bei einer Werbeagentur). Bei Unsicherheiten einfach den Veranstalter fragen und im Zweifel lieber over- als underdressed hingehen. 
Zur Kategorie "Eigenen Stil finden und verbessern"...
Smart Casual (English)
On the occasion of an event, a friend asked for advice what the dresscode "smart casual" means. Smart casual you can find on invitations to seminars, get-togethers and rather easy going events. The kind of host influences the dresscode a lot. Smart casual at a bank or a consultancy company is different from that of an industry company or an agency.
In general smart casual means decent leisure time garments. Jumpers, business shirts, business jackets and not too hip jackets (without big logos or alike) are appropriate. Decent jeans, Chinos and leather shoes are a safe choice. Cord in good condition can make an outfit as well.
Conspicuous and dominant colours  such as red you should just select in case you want to stand out. Generally t-shirts, leather jackets, sneakers and sport shoes are the wrong choice (maybe different in an advertisement agency or alike). If you are unsure, simple ask the host. In case of any doubt rather dress up a bit.