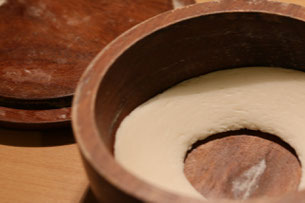 Meine Rasierseife hat bei täglichem Benutzen eineinhalb Jahre gehalten. Nun zeigt sie den Boden des Holztiegels. Im Gegensatz zu Rasierschaum bleiben mit der Rasierseife die Hände trocken. Rasierseife ist die sparsamste und stilvollste Variante für den Rasierschaum. Mein Tiegel begleitet mich nun schon auf vielen Stationen und wird jetzt zum zweiten Mal wiederbefülllt. 
Shaving soap is thrifty
My shaving soap lasted one and a half years of daily use. Now it reveals the bottom of the wooden shaving bowl. Contrary to shaving foam while using a shaving soap hands stay dry. Shaving soap is the most thrifty and stylish way to foam up for the shave. My wooden shaving bowl has accompanied me during several points of my journey and now it will be refilled for the second time.