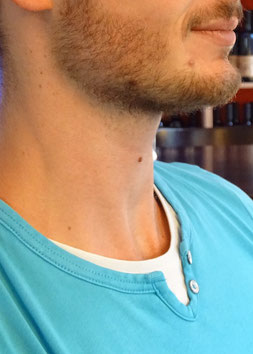 Ein guter Freund sagte mir neulich bei einem Bier im Spätsommer, ja, er würde seinen Bart färben. Dazu steht er, alle zwei Wochen, damit die Barthaare gleichmäßig braun sind. Während mein eigener Bart leicht rötlich wird, je länger er ist, hat mein Kumpel um den Mund eher blondes Haar. Die Tube kostet ihn etwa acht Euro und seiner Freundin gefällt es wohl.
Unsere Diskussion führte uns zu der Frage, wieviel Pflege ein Mann braucht. Ab wann ein eher feminines Level erreicht sei und wie andere das wohl sehen. Wir kamen für uns zu dem Ergebnis alles ist okay, solange es einen Nutzen für den Mann bietet. Egal ob ein Mann nun auf Frauen steht oder schwul ist, er sollte tun was ihm gefällt. Mein Kumpel mag einen einfarbigen Bart haben. 
Während der Schulzeit hatte ich mal "cosmic blue" als Haarfarbe- dieses Experiment habe ich bald wieder verworfen, später andere Versuche für gut befunden und beibehalten. 
Es gibt einen generellen Trend, dass Männer mehr auf ihre Körperpflege achten, aber immernoch Scheu vor manchen Pflegeprodukten haben. In der Grooming Rubrik stellen wir immer wieder einzelne Pflegeprodukte und deren Nutzen vor. Dann kann jeder selbst für sich entscheiden. 
Is it unmanly to colour the beard?
Lately a good friend told me while we had a summer beer: Yes, I colour my beard. He stands by this, every two week, in order to make the beard hears appear overall brown. Whereas my own beard gets a slightly ginger touch when it grows longer, his beard hair is blonde around the mouth. A tube costs him eight euro and his girlfriend likes it. 
Our discussion revolved around the question how much care a man needs and when a rather feminine level of care is reached. For that evening we concluded that everything is okay unless the man can see sense in it. Whether a man is straight or gay or whatever, he should do what makes him feel good. My mate prefers a consistent coloured beard. During school I had "cosmic blue" coloured hair, an experiment I dismissed soon. Other endeavours I liked and kept practising. 
There is a recent trend that men take care more about their appearence, but still have hesitations using some kind of grooming products. In the grooming category we describe certain grooming products and their benefits. Then it is up to each man to decide for himself.