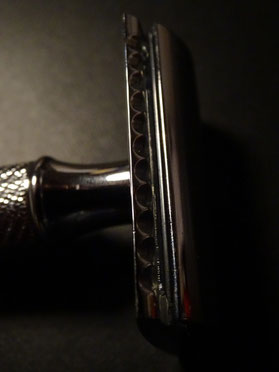 Mein Freund Johannes liebt seinen Rasierhobel über alles. Seit längerem muss ich mir anhören, wie toll der doch sei und wie es sein könne, dass ich D.R. Harris Rasierseife verwende, aber diese Plastikprodukte verwende. Diese ganzen aus seiner Sicht völlig überteuerten Plastikklingen sind ihm ein Graus. Obwohl Gillette um 1900 einer der Entwickler des Rasierhobel war (der auch Sicherheitsrasierer genannt wird), verkauft die Firma diese Rasiergriffe in Europa und Nordamerika nicht mehr. 
Johannes hat sich eine riesige Auswahl von Klingen für den großen Men's Individual Fashion Rasierklingentest gekauft und spricht davon, daraus ein Samuraischwert schmieden zu können. Für mehr Grooming Themen gibt es die Grooming Rubrik.  Lange habe ich mich gesträubt, mich für den gewohnten Plastikrasierer und gegen eine einzige eingespannte Klinge entschieden. Gestern kam mein bestellter Rasierhobel an. Heute stand die erste Rasur an. Die Anleitung des Herstellers liest sich wie ein Warnleitfaden für Schnittverletzungen. Bin ich in Gefahr? Ich sage mir, dass müssen die tun, um rechtlich auf der sicheren Seite zu sein. Sogar vor Schnittverletzungen der Katze bei Herumliegenlassen der Klinge warnt der Hersteller. Sodann schreite ich zur Rasur. Meine Freundin beobachtet den Vorgang mit einer Mischung aus Interesse und Sorge.
Der Rasierhobel fühlt sich sehr direkt auf meiner Haut an. Die Bilanz nach der ersten Rasur sind zwei kleine Schnittverletzungen und ein überzeugendes Rasurerlebnis, das mit Übung sicher noch besser wird. 
Safety razor: Shave like a man
My friend Johannes loves his safety razor with passion. For a very long time I had to listen to his words, how fantastic the device is. How I could use D.R. Harris shaving soap and then use plastic razor blades. He condemns plastic razor blades as commercial. Although Gilette was one of the inventors of safety razors around 1900, the company does no longer sell these in Europe and Northern America.  
Johannes bought a huge selection of razor blades for the big Men's Individual Fashion razor blade article and jokes he could forge a samurai sword. For more grooming information, visit the grooming category.  For a long time I refused to try, I chose plastic razor blades and I opted against a single fixed razor blade. Yesterday the safety razor I ordered arrived. Today my first shave took place. The booklet of the manufacturer is like an overall warning about cuts. Am I in danger? I tell myself, they have to do this to avoid legal risks. Take care not to hurt the cat by letting the blade lying around! Finally I experienced my very first super traditional shave. My girlfriend observed with interest and worry.
The safety razor felt very intense on my skin. The result after the first shave were two minor cuts and a convincing shave which might be even better with some exercise.