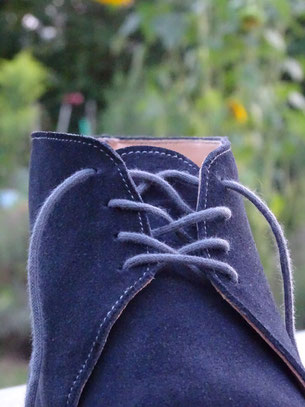 Der Wildlederschuh ist ein Allrounder für den Männerfuß. Ein schwedischer Freund suchte für seinen Bürojob, bei dem er nicht allzu aufgestylt im Büro sein muss, komfortable Schuhe. Wir unterhielten uns über ein paar Schuhhersteller und Schuhmodelle. Dann fiel eine Bemerkung, die mich motivierte diesen Artikel zu schreiben: "Ein Raulederschuh ist ja so pflegeintensiv". Der Raulederschuh hat einen schweren Stand. Er gilt zu Unrecht als pflegeintensiv.
Er ist allerdings ein sehr flexibler und komfortabler Schuh, der zu vielen Gelegenheiten passt. Die Schuhhersteller bieten ihn in vielen Farbvarianten an, so dass er zu jedem Alter und Typ passt. Im Showroom eines britischen Schuhherstellers war es hart für mich, zu sehen welche Farben mir noch fehlen.

In der Schuhkategorie schreiben wir ausführlicher über diesen Allrounder für den Männerfuß und brechen eine Lanze ihm das Vertrauen zu schenken. 
Trust suede shoes
The suede shoe is an all-round shoe for the feet. A Swedish friend of mine was in need for an comfortable shoe for his office which has a rather casual dress code. We discussed some shoes models and shoe companies. Finally he said, pushing me to write this article: "A suede shoe is so care intensive". The suede shoe has a hard time. Which is wrong.
To the contrary, it is very flexible and comfortable for many occasions. Shoe companies offer it in many colours to please every man's age and type. In the showroom of a British shoe manufacturer it was hard for me to see how many lovely colours I still miss in my shoe collection. 
In the shoe category, we describe this all-round shoe for men's feet more detailed and strike a blow for trusting suede shoes.