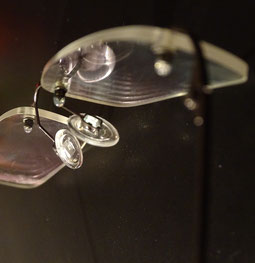 Im Sommer bin ich entspannt und lasse meine Brille im Etui. Einfach aufs Fahrrad und los geht es. Während eines Bieres im Biergarten sagte mir mein Kumpel Patrick zum wiederholten Mal ich solle sie doch öfters mal weglassen. Brillen haben eine große Wirkung auf andere Menschen. Vor Jahren als ich begonnen hatte meine randlose Brille zu tragen, fiel das sofort jedem auf. Jetzt merkt mein Umfeld sofort, wenn ich einmal nicht trage. 
And where are your glasses?
During summer I am lazy and my glasses stay in the case. I just hop on the bike to see friends in my leasure time. While having a beer with my mate Patrick he repeatedly told me I shall more often leave it home. In general, glasses have a big impact on others. Years ago, as I started wearing my rimless glasses, everybody recognized it. Now my environment immediately notices anytime I leave it at home.