Ein Jacket ist ein klassisches Kleidungsstück. Wir sehen darin Geschäftsleute und ernste Dinge, Vorträge, Büro, Seriösität und Geschäft. Der Kaputzenpulli (Hoddie) ist etwas sportliches und  lockeres. An der Uni und in Sportvereinen tragen viele Leute Hoodies. Hoodies sind cool. Ich habe einen Woolpulli mit Kapuze, den ich immer auf Reisen anhabe. Er ist ein flexibles Kleidungsstück für viele Wetterlagen und Situationen. Strapazierfähig und bequem für Bahn, Bus und Flugzeug. Wegen der Wolle schaut er gut genug aus, dass ich nicht aussehe als ob ich gerade vom Sport komme. Außerdem polstert er meine Schultern, was breiter und stärker aussieht.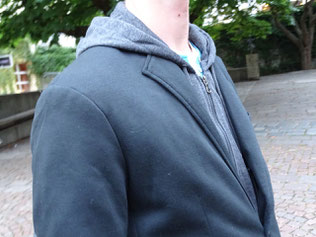 Mein Kumpel auf den Photos hat ein tolles Kleidungsstück, das beide Effekte vereint. Es gibt den Schick eines Sakkos und die Lockerheit von Freizeitbekleidung. Die Armaufnäher, bekannt vor allem aus klassischen Filmen (ich denke immer an James Bond beim Jagen), verleihen dem Jacket (oder auch "Sakko") einen rustikaleren Look und machen den Kontrast zwischen Kapuze und Jacke nicht so streng. Mit so einem Kleidungsstück signalisiert er beides: Ich bin schick und ich bin locker. Die Jacke ist immernoch hauptsächlich eine Jacke, so dass sie Eleganz ausdrückt und nur in zweiter Linie Coolness. Einen ähnlichen Effekt würde zum Beispiel auch eine Jeans zum Sakko oder ein bloßes T-Shirt unter dem Jacket bewirken.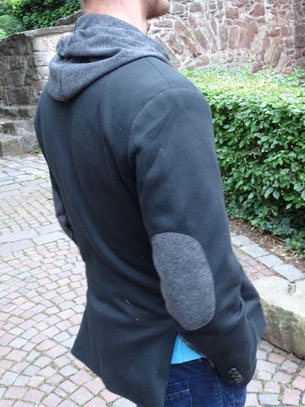 Something of everything

A jacket is a classic garment. We associate business people and serious business, such as speeches, office and confidence. The hoodie is something sporty and relaxed. On the campus and in sport associations many guys wear hoodies. Hoodies are cool. I have a hoodie made of wool, which I mainly use for travelling. It is a flexible garment for many weather situations and circumstances. Serviceable and comfortable is is perfect for railway, bus and flight travelling. Due to the woolly fabric it looks posh enough and not like the guy coming from gym. Furthermore it supports my shoulders which make them appear broader and stronger. 
My mate on the photos has a great garment which combines both effects. It offers the posh appearance of a jacket and the coolness of leisure activities. The patch, known from classic movies (I always think of James Bond on the hunt), eases the look and smoothens the contrast between hood and jacket. With it, he communicates both things: I am posh and I am cool. It is still mainly a jacket which impresses elegance and secondly coolness. A similar effect you might achieve with a jeans to a jacket or a plain t-shirt under the jacket.