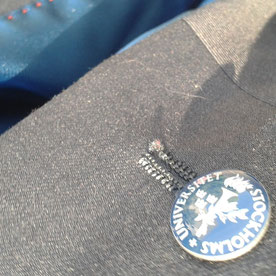 Der Ansteckpin ist im Kommen. Bekannt von amerikanischen Politikern, die eine Amerika Flagge am Revers tragen, verbreitet er sich immer mehr. Ob die Landesflagge, der Lieblingsverein oder die Firma, der Pin ist eine tolle Möglichkeit das Sakko aufzulockern und mit einer individuellen Note zu versehen. Parteien, Bands, der Vielfalt sind keine Grenzen gesetzt. Ich bin schon öfters mit Menschen über ihren Pin ins Gespräch gekommen und finde ein Pin ist eine sehr dezente Botschaft, die trotzdem auffällt, vor allem wenn man den Pin ins Knopfloch des Sakkos steckt.

Pins sind bei eher politisch links orientierten und alternativen Menschen sehr verbreitet, allerdings haben die dann oft viele verschiedene an ihrer Tasche oder Jacke, was meiner Meinung nach ein bißchen viel ist. So viele Pins lenken die Aufmerksamkeit nicht auf eine bestimmten Sportclub oder Initiative. Es ist eher Ausdruck eines Lifestyles, was auch etwas hat.
Ich habe eine ganze Sammlung von Pins, die ich an verschiedenen Sackos und Jacken angebracht habe. Das Bild zeigt den Pin der Stockholm University, der gut zu dem blauen Innenfutter meines Sportsakkos passt. In Stockholm hatte ich ein Jahr studiert. 
The pin
The pin besomes increasingly popular. Known by American politicians who wear the Stars and Strips on their lapels, it spreads around the world. Whether it is the national flag, the favorite club or the company, the pin is a fantastic opportunity to make a jacket more casual and brand it with an individual message. Political parties, music bands, there is no limit to diversity. I used to get to know people over their pin und I hold that the pin is a subtle but noticable message, especially if you wear it on the lapel.
Pins are widely common among rather left wing and alternative people, who used to pin plenty of them on their bags or jacket, which is a little to much in my opinion. So many pins does not direct attention towards one specific sports club or initiative. For these guys it is rather a lifestyle mark which is, however, something.
I have a broad variety of pins I pinned to different jackets and coats. The picture shows my Stockholm University pin which matches well the blue lining of my sportsjacket. I studied one year in Stockholm.