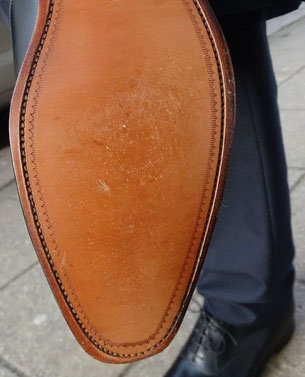 Es wird Sommer und das ist die Hochzeit der Ledersohle. Im Winter und Herbst ist sie zu kalt und ich weiß aus eigener unangenehmer Erfahrung, dass Frieren an den Füßen nicht toll ist. Im Frühling und Sommer sind sie optimal.
Die Ledersohle ist am Anfang etwas rutschig, ich habe es in einem Schuhgeschäft auch schon einmal erlebt, dass der Verkäufer sie mit Sandpapier aufgeraut hat um zu verhindern, dass ich auf dem gefliesten Geschäftsboden ausrutsche. Ich wollte sie gleich anziehen. Jemand, der es wissen muss und an prominenter Stelle im Schuhgeschäft arbeitet, hat mir einmal gesagt: "Es ist erstaunlich, dass wir sie so verkaufen dürfen".
Dieser Rutscheffekt lässt jedenfalls schnell nach und nach einiger Zeit tragen ist die Unterseite auch nicht mehr so ansehnlich. Ledersohlen lassen sich gut beim Schuster austauschen. Die Sohlen brauchen aber auch Pflege. Schließlich sind sie der am meisten beanspruchte Teil des Schuhs.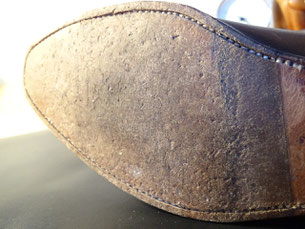 Time for leather soles!
Summer is coming and this is the hightime of leather soles! In winter and autumn it is too cold and I learned this on the hard tour that being cold on the feed is uncomfortable. In spring and summer, leather soles are fantastic.
In the beginning the leather sole is a little slippery and I experienced during a shoe purchase that the sales gentleman offered to roughen it with sandpaper to prevent me from falling on the tiled mall floor. Once somebody competent in shoe business told me: "It is a surprise we are allowed to sell them like that".
The slippery effect is, however, very temporary and after a while the downside becomes less fashionable. Leather soles can be renewed at a decent shoemaker. The soles do need care, since they are the most well-worn part of the shoe.