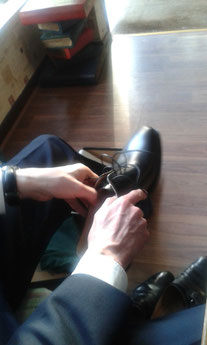 Neue Schuhe sind etwas großartiges, doch man muss sie einlaufen. Am besten trägt der stolze Neubesitzer sie nur ein paar Stunden am Tag. Pflaster und Tape an der Ferse bewahren bei dickem Leder den Fuß vor schmerzhaften Blasen. Es gibt auch besondere Lotionen, die das Schuhleder weich machen, aber das finde ich unnötig.
First steps with new shoes
New shoes are something wonderful, but you have to do first steps with them. The perfect way is to wear them just a few hours a day. In case of heavy leather, a plaster and a tape might prevent the heel from getting harmful blisters. There are special lotions to soften up the leather, but I consider this unnecessary.