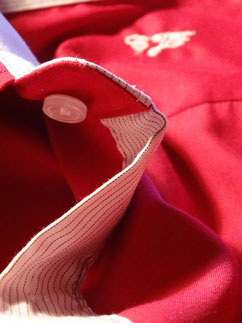 In den letzten Jahren sind Hemden mit Kontrastknopfleiste immer mehr im Kommen. Kontrastknopfleisten peppen das Hemd auf und machen es etwas moderner und jünger. Eine Knopfleiste mit anderer Farbe als das restliche Hemd gibt dem Träger mehr Variationsmöglichkeiten an die Hand, erfordert aber auch ein gutes Farbgefühl.
Als ich das Hemd gestaltet habe war meine Überlegung: Rot steht mir gut. Es ist eine sehr dominante Farbe- damit es etwas lockerer aussieht bietet sich das neutrale weiss dazu an. Rot und weiss zusammen würde sehr förmlich aussehen, deswegen sind feine Streifen in der Knopfleiste hilfreich es ein bißchen cooler zu machen. Das Hemd hat mein lieber Schneider John Bei in Peking für mich gemacht. Er war so nett und hat im Kragen auch noch meine Initialien eingestickt. 
The contrast button facing
In the last years business shirts with constrast button facing have become increasingly popular. Contrast button facing boosts a business shirt and makes it seem a little more casual and younger. A button facing in another colour enables the bearer to match more variations but requires also a good colour feeling.
When I designed this shirt my general consideration was: Red suits me well. It is a dominant colour- in order to make it look casual I combine a neutral white. Plain red/white would look formal, therefore I go for the slim stripes in the button facing. The shirt tailored my dear tailor John Pei in Beijing for me. He was so kind to embroider my inititials in.