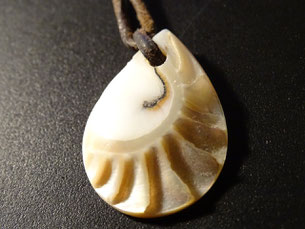 Meine Sommerkette habe ich schon lange und ich mag dieses Accessoire sehr. Ich würde ja gerne schreiben, ich hätte sie deswegen, weil ich das Meer liebe. Das ist nicht falsch, aber auch nicht die ganze Wahrheit. Ursprünglich habe ich die Kette gekauft um Mädels zu beeindrucken. Und siehe da, es hat nicht funktioniert.
Ironischerweise fingen Frauen an, mir Komplimente zu machen, als ich die Muschelkette deswegen angezogen habe, weil ich sie schön fand. 
The summer necklace
My summer necklace I have been owing for a long while and I appreciate this accessory. I would like to write I bought it, because I love the sea. And this is not wrong, but not the whole truth. Originally, I bought it in order to impress the ladies. And guess what? I did not work.
Ironically ladies commenced complimenting me for the shell necklace as I started to wear it because I like the design.