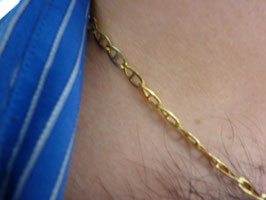 Das Goldkettchen passt nicht zu jedem. Entweder der Mann hat blonde Haare oder ist Südländer. Das Goldkettchen lässt einen Mann seine Verbindung mit höheren Mächten fühlen oder verkörpert Tradition. Es ist mehr als andere Accessoires eine Aussage. Wenn es zum Mann passt, kann es dem Outfit das gewisse Etwas geben.
Accessories: The golden necklace
The golden necklace is not suitable for everybody and is special. Either you have blonde hair or you are a Southern European guy. The golden necklace let a man feel his connection to higher powers or remember him of tradition. More than other accessories it is a statement. If it suits a man well, it can give the outfit an extra boost.