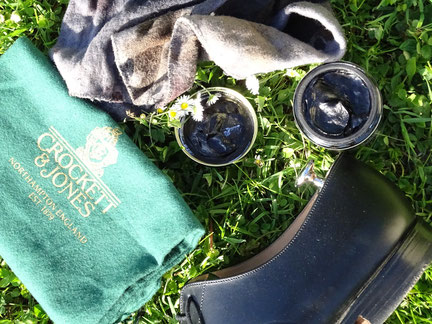 Schuhpflege erfordert einiges an Aufmerksamkeit. Schuhe wollen gereinigt werden, mit Schuhcreme behandelt und in Form gehalten werden. Schuhe hassen Hitze und Nässe. Und sie mögen es nicht, wenn man sie grob behandelt (und damit meine ich nicht, sie bei Wind und Wetter in alle Welt zu tragen, habe das gemacht).
Hört sich alles ziemlich aufwendig an. Schuhe wollen einfach nur natürlich behandelt werden, sie kommen schließlich aus der Natur. Sehr gute Qualität und ein nachhaltiger Hersteller wie Crockett & Jones machen es noch einfacher. Mein Besuch in Northampton und der aktuelle Schuhfotowettbewerb dieses tollen Herstellers hat mich zu dem Photo inspiriert.
Shoe care: Back to nature
Shoecare requires quite some attention. Shoes like to be cleaned, treated with shoe polish and keep in shape. Shoes hate heat and wetness. And, of course, they dislike any kind of rough conduct (and I do not mean travelling around the globe with them, did that).
Sounds overall demanding. Shoes do like to be treated naturally, since nature is where they come from. High quality and a sustainable manufacturer such as Crockett & Jones make it even easier. My visit to Northampton and their latest shoe photo competition inspired me to shoot this picture.