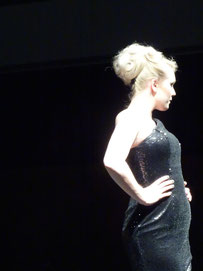 Wer schon einmal gesehen hat wie sich eine Frau von einer normal attraktiven Frau in eine umwerfende Frau durch Kleidung, Highheels und eng sitzende Hosen verwandeln kann, die einem Mann den Atem raubt, der kann davon viel lernen. 
Gestern wäre ich fast an einem guten Freund vorbeigelaufen.  Als Südländer und treuer Leser dieser Seite hat er verstanden, dass ein Ausgehdress für das Date mit einer Frau helfen kann und wie eine Rüstung ein ganz anderes Selbstbewusstsein vermittelt. Ein bißchen Parfüm, ein paar gute Kleidungsstücke und dann die passenden Farben und einem super Typen steht ein einzigartiger Abend bevor. 
The going-out pants effect
Whoever observed the radical transformation an attractive lady undergoes when putting on sexy clothes, highheels and tight pants which altogether is capable of taking a man's breath, can learn a lot from this concept. 
Yesterday, I actually nearly did not recognize a friend who was on his way to a date. As a Southern European guy and loyal reader of this webpage he does know that a little fragrance, some good garments, the right colours combinded as an going out dress assist during special occasions. These things give like an armour a different self-esteem which results in having a wonderful time.