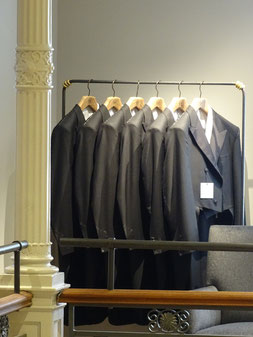 "Maßanzug", "Made to Measure" und andere Bezeichnungen
Oft liest man in Schaufenstern Schlagzeilen wie "Maßanzug", was sich sehr individuell anhört. Maßanzug ist nicht gleich Maßanzug. Maßkonfektion ("Made to measure") bedeutet eine erweiterte Form der Ware von der Stange ("ready to wear"). Dies kann sehr umfangreich sein und unzählige Variationen und Materialien umfassen. Im Grunde können Maßkonfektionen eine sehr gute Variante der vornormierten Kleidung sein. Der deutsche Hemdenhersteller Eterna hat einen umfangreichen Hemdenkonfigurator, bei dem Custom Made Hemden angeboten werden. Ein wirklicher Maßanzug ("full bespoke") ist ein sogenannter Voll- oder Feinmaßanzug. Der Schneider entwirft anhand der Maße des Kunden alles an dem Anzug oder Hemd neu auf dem Reißbrett. In diesem Anzug stecken 60 bis 80 Stunden reine Handarbeit und wirklich alles ist handgenäht und angepasst, was sich auch deutlich am Preis bemerkbar macht. 
Schuhe, Schuhe, Schuhe
Bei Schuhen haben die guten Schuhhersteller inzwischen eine große Auswahl an Leisten und "Handgrade Kollektionen" mit mehr Anteil reiner Handarbeit, z.B. bei Crockett & Jones. Für normale Füße und hohe Ansprüche findet sich dort für viele Männer etwas. Echte Maßschuhe herzustellen dauert sechs bis neun Monate und sie beginnen bei circa 3500 Euro, z.B. bei John Lobb oder Foster & Son in London. Diese sind noch komfortabler und ganz individuell, was bei besonders hohen Anforderungen oder problematischen Füßen Sinn machen kann.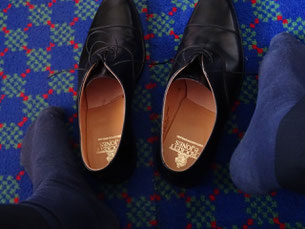 "Full bespoke", "made to measure" and other labels 
Often you read in shop windows marketing lines such as "bespoke service" which sounds quite individual. Bespoke is not equal bespoke. "Made to measure" means an extended version of ready to wear garments. This can be very sophisticated and have countless variations and materials. The German shirt manufacturer Eterna offers custom made shirts. The customer can choose colours, sizes and alike by himself. On balance, "made to measure" can be a very good expression of pre-designed patterns. A real bespoke suit or shirt is fully designed by a tailor according to the measures of the costumer. It takes 60 to 80 hours to craft such a suit and each and every detail is handmade and measured, which you might realize on the price.
Shoes, shoes, shoes
In shoe issues the decent shoemakers have a very broad selection of lasts and handgrade collections with even more handcraft work, for example Crockett & Jones. For normal shoes and reasonable expectations every man finds something. Full bespoke shoes take six to nine months and they start around 3500 Euro, for example at John Lobb or Foster & Son in London. These shoes are even more comfortable and entirely individual, what meets the requirements of highest expectations or problematic feet.