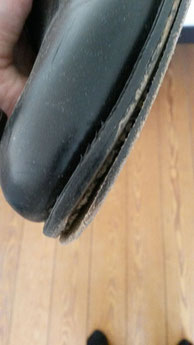 Eigentlich wollte ich heute einen eher allgemeinen Post über Nachhaltigkeit schreiben. Im Linkbereich gibt es seit heute eine entsprechende Kategorie, die weiter ausgebaut wird. Großes Wort, schwieriges Thema. Doch es kam anders. Ein Leser hat mir heute dieses Foto geschickt. Seit etwas mehr als einem Jahr trägt er dieses Paar Büroschuhe für reduziert 230 Euro. Er trägt es im Wechsel mit zwei anderen. Nun löst sich die Sohle.
Nachhaltigkeit heißt gesunde Materialen, Respekt vor der Umwelt und erträgliche Arbeitsbedingungen für diejenigen, die diese Produkte produzieren. Nachhaltigkeit heißt aber auch Kleidungsstücke zu angemessenen Preisen. Wenn jemand eine Marke kauft, weil sie ihm emotionalen Wert gibt, ist das eine angenehme Sache. Aber an hochpreisigen Produkten sollte ein Mann lange Freude haben. Auch das ist Nachhaltigkeit.
Wie gerne ich dabei wäre, wenn er diese Schuhe dem Hersteller um die Ohren schlägt. In der Schuhrubrik schreiben wir über Schuhe, Schuhpflege und natürlich Qualitätshersteller. Überteuerte Schuhe haben dort keinen Platz. 
What we stand for
My plan for today was to write a general post about sustainability. In the link category we opened a new link bundle to be extended over time. Big word, difficult topic. But for today things went different. A reader sent me this picture. He has been worn this pair of business shoes for a little more than a year. He bought it for reduced 230 Euros. This pair of shoes and two others have been taken turn for a litte more than a year, then the sole of this shoe fall away.
Sustainability means healthy materials, respect towards the environment and fair working conditions for those who produce these products. It also means garments to an appropriate price-performance ratio. If someone buys a branded product to feel emotionally better, this is something pleasant. But high price products shall offer long-term joy. This is also sustainability.
I would love to see how he goes crazy in the shop where they sold him this. In the shoe category we continue writing about shoes, shoe care and, of course, quality shoe manufacturers. Overpriced shoes do not qualify.