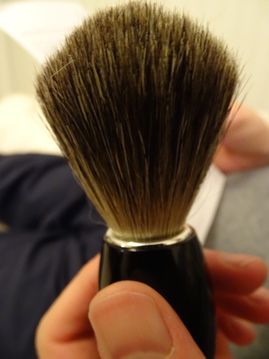 Seit langem will ich mir einen neuen Rasierpinsel kaufen. Eigentlich sollte es ein englisches Exemplar werden. Doch in Berlin schleppt mich mein Kumpel zu einer deutschen Manufaktur. Nachdem ich ihn bei x Gelegenheiten mit meiner Begeisterung angesteckt habe, schlägt er in Berlin zurück. Total fasziniert von dem Laden, kaufe ich schließlich ein deutsches Qualitätsprodukt. Er beschwert sich, daß mein Rasierpinsel weniger "nach Tier" riecht als sein alter. Männer und Rasierpinsel sind ein besonderes Thema. Wir hatten echt Spaß!
Inspiration (English)
For some time I intended to buy a new shaving brush. I planned to go for a British one. In Berlin, my friend took me to a German manufacturer. After I inspired him so many times with my passion, he stroke back in Berlin. Totally in fascination, I eventually bought a German quality product. He complained that my new shaving brush smells less like badger than his. Men and their shaving brushes are a special issue. We had so much fun!