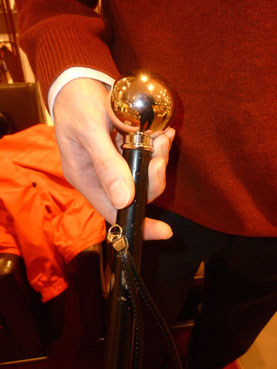 Ich kenne jemand, der tritt seine Schuhe an den Fersenkappe platt. Das ist sicher ein Extremfall und eine neue Kreation einer Freizeitledersandale. Um guten Schuhen ähnliches zu ersparen, sollte beim Anziehen ein Schuhlöffel verwendet werden. In jedem vernünftigen Hotel gibt es einen und ich habe einen Reiseschuhlöffel, der zwar klein, aber weit herumgekommen ist. 
Support: The shoehorn
I know somebody who steps down his leather shoes on the heel. This is for sure extreme and a new creation of a free time sandal. To avoid this fate with your decent shoes, you should use a shoehorn. In every hotel you get one and I additional have one for travelling. It is small but widely travelled.