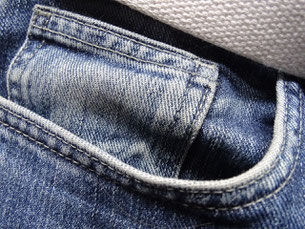 Manche Jeans haben eine kleine Extratasche. Die "five pocket jeans" ist ursprünglich eine Uhrentasche, in der modernen Welt aber vor allem für Einkaufsmünzen oder Chips geeignet. Natürlich kann man auch seinen Zauberring dort verstecken.

The "five pocket jeans"
Some jeans have an extra pocket. Originally the "five pocket jeans" has a pocket watch background, in modern time it is suitable for shopping coins and chips. You can, of course, also hide your magic ring there.