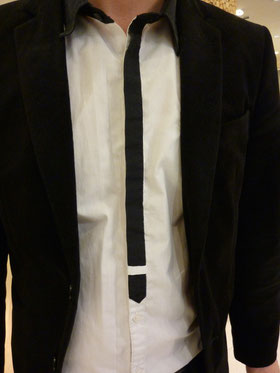 Wer sich einmal ein Oberhemd hat schneidern lassen, weiß, daß man bei einem Hemd so gut wie alles verändern kann. Witzig fand ich die Idee die Knopfleiste als Slim Tie Krawatte zu färben. Ein solcher Look sichert in jedem Fall einen zweiten Blick. 
Quite something: The fake slim tie
Whoever had the pleasure to let a tailor create a business shirt from scratch knows that you can change nearly everything of a shirt. I liked the idea of a button facing in slim tie colour. This look guarantees a second look for sure.