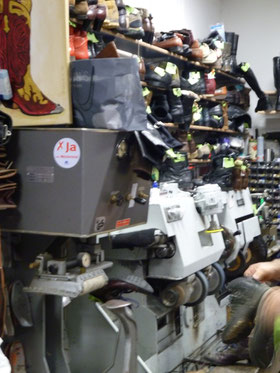 Der Flickschuster repariert alles mögliche. Bei ihm bekommt man Schnürsenkel, Gummisohlen und Ausbesserungen für die Umhängetasche. Nur die teuren rahmengenähten Schuhe sollte man von einem hauptberuflichen Schuster neu besohlen lassen. Mein Vertrauensmann brachte mir bei der x-ten Reparatur meiner geliebten Umhängetasche die unangenehme Wahrheit bei, ich solle sie doch endlich mal durch eine neue ersetzen.
Nach vielen treuen Dienstjahren in der ganzen Welt war selbst der Flickschuster nicht mehr in der Lage, sie in einen ansehnlichen Zustand zurückzuversetzen. Etwas getröstet hat mich dann doch, wie ein Verkäufer schaute als ich ihm eröffnete, welche immensen Belastungen eine würdige Nachfolgertasche auszuhalten habe.
Fashion advisors: The repairman
The repairman repairs nearly everything. He sells shoeslaces, changes rubber soles and repairs the shoulder bag. The high price goodyear welted shoes you should, however, bring or send to a decent full-time shoemaker. The repairman of my trust actually refused to repair my beloved shoulder bag once more after it served many loyal years in service around the globe.
I was in need of this unpleasant truth. The face of a salesman I declared my expectations towards a dignified successor bag and it's ability to face immense strains was at least a little consolation for the great times I had with my old bag.