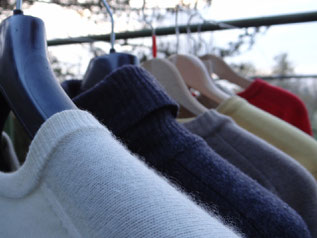 Wollpullis brauchen immer mal wieder ein bisschen Feuchtigkeit. Sie über Nacht auszulüften ist immer eine gute Idee und hilft Motten zu bekämpfen. Auch Raw Jeans auf links auszulüften wirkt wahre Wunder, auch wenn manche Großmutter sie vermutlich als neumodischen Schnickschnack bezeichnen würde.
Grandmother's secrets: Dealing with woolly jumpers
Woolly jumpers need some moisture once in a while. To air them over night is always a good idea and helps fighting moths. Also airing raw jeans turned inside out works wonders, although some grandmothers would most likely call them fashionable junk.