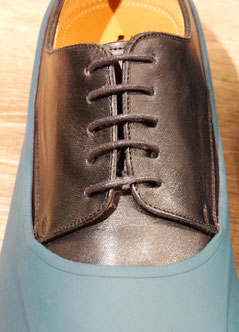 In Hans-Christian Andersen Märchen "Die Galoschen des Glücks" verheißen sie dem Träger die Erfüllung jedes seiner Wünsche. Rein praktisch schützen Galoschen gute Herrenschuhe vor Nässe, Schmutz und Kälte. Der Büromann vermeidet so das Schuhwechseln in der kalten Jahreszeit.
The shoes for the shoes
In Hans-Christian Andersen fairy tale "The Galoshes of Fortune" it promises the bearer to fulfill every wish he has. In practical terms, galoshes protect decent men's shoes against wetness, dirt and cold. Thus, the business man avoids changing shoes in the cold season.