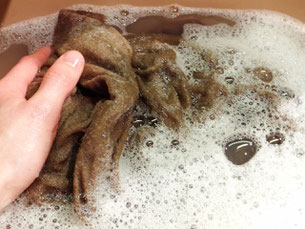 Ein Kaschmirpullover fühlt sich weich an, sieht schick aus und macht viel Freude. Das Haar der Kaschmirziege aus dem Himalaja benötigt allerdings besondere Pflege, vor allem beim Waschen. Ein feinen Wollpullover wäscht man ausschließlich per Hand und nach einem bewährten Verfahren. Dann bleibt er lange warm und weich. 
Grandmother's secrets: Taking care of a cashmere jumper
A cashmere jumper feels soft, looks fancy and it is a joy to wear it. The cashmere goat's fiber from Himalaya needs special care, especially in the washing. A fine woolly jumper is an item for hand-washing and subject to a tried and tested procedure. Then it stays warm and soft long.