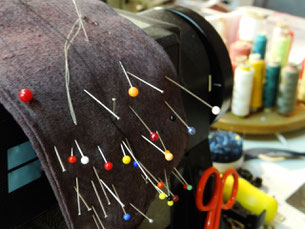 Der Änderungsschneider ist so etwas wie der modische Schönheitschirug. Er rettet gerissene Nähte, ändert die Größe wenn nötig und verlängert damit das Leben eines Kleidungsstücks deutlich. Vor allem Pullover müssen immer mal wieder dort Station machen. 
Fashion advisors: The tailor
The tailor is like the fashion cosmetic surgeon. He saves broken seams, changes the size if necessary and thus extends the garment`s life a lot. Especially jumpers need a pit stop there once in a while.