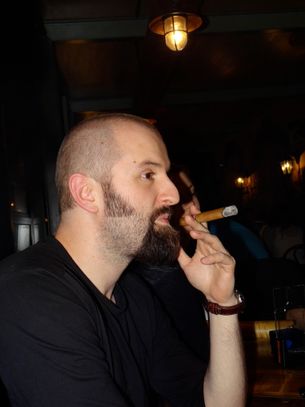 Selbst ausgeprägte Individualität hat noch nie dem Stil geschadet. Im Gegenteil, sie macht ihn aus: Der außergewöhnliche Mann zeigt sich auch im Erscheinungsbild. Schlichte Kleidung, eine schöne Frau an seiner Seite und grosse Zufriedenheit erinnern uns daran, dass es sich immer lohnt seinen Träumen zu folgen. Ganz ohne teure Modelabels. Anlässlich einer bestandenen Berufsprüfung kann man sich dann auch mal der Zigarrenleidenschaft hingeben. 
Style: The extraordinary man
Even distinctive individualism never ever harms good style, but creates it: The extraordinary man reveals himself by appearance. Simple garments, a beautiful lady on his side and deep contentedness remind us that it is always bloody worth following your dreams. Entirely without expensive labels. On the occasion of a successful professional exam enjoying a fine cigar might be understandable, if not imperative.