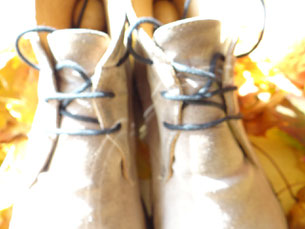 Der Raulederschuh ist ein Herbstklassiker der Herrenmode. Als Träger kann man sich etwas wie ein britischer Earl auf der Jagd fühlen. Der Schuh ist erstaunlich pflegeleicht und warm. Irgendwann wird es allerdings so kalt, da hilft dann nur noch eine wärmere Stiefelette. 
Shoe lesson: The suede shoe
Suede shoes are a autumn classic of manly fashion. You feel a little like a British Earl hunting. Surprisingly, the shoe does not need too much care and is warm. Sometime it gets too cold, then just an angle boot can warm your feet up.